why we choose the top ten books for learning Arabic for you ?
Arabic was chosen by Allah, and the Muslim holy scripture is written entirely in Arabic.
Therefore, every Muslim must learn to read and speak Arabic, the language of the prophet,
in order to be able to understand and interpret the word of Allah through prayer and reading the Quran
so we shoe Top ten books for learning Arabic
1. from top ten the book Alif Baa
About the Book
Alif Baa has been designed for anyone who has no prior knowledge of the Arabic language.
We will start all the way from recognising letters, learning how to
Alif Baa provides learners with all the material necessary to learn the sounds of Arabic, write its letters, and begin speaking Arabic
also Alif Baa provides learners with all the material necessary to learn the sounds of Arabic, write its letters, and begin speaking Arabic.
The accompanying …
FEATURES- Four-color design throughout the book features over 100 illustrations and photographs
– Gives learners and instructors color-coded options for the variety of language they wish to activate in speaking: Egyptian, Levantine, or formal Arabic (MSA)
Introduces over 200 basic vocabulary words in all three forms of spoken and written Arabic side by side,
including expressions for polite social interaction, and activates them in interactive homework exercises and classroom groupwork
also Includes video dialogues in Egyptian and Levantine, filmed in Cairo and Damascus
and also Includes video footage of an Arabic calligrapher, capsules on Arabic culture, and images of street signs from Morocco, Egypt, and Lebanon
2. from top ten the book Arabic for Beginners
About the Book
After learning and teaching Arabic for a while, I noticed a need for quality resources for new learners.
Popular classical Arabic textbooks for beginners like the Medina Books and Arabiyyah Bayna Yadaik are completely in Arabic and require a teacher.
As for Arabic grammar books in English, most are overwhelming for beginners.
So, Arabic for beginners is a step in the direction of creating easy to use resources for beginners in English.
Learners progress in gradually through simple lessons, quizzes and exercises.
The core content of the course is free.
A few additional resources are available when you sign up for Pro.
3. from top ten the book Al-kitaab fii Ta'allum
About the Book
This book develops all language-related skills including reading, listening, speaking, writing, and cultural knowledge;
also immediately incorporates extensive use of authentic materials for reading, listening, and grammatical practice, relating abstract grammatical concepts to practical skills;
presents narrative-based content through audio and video media rather than written text
to develop meaning-focused language processing skills, utilizing two main characters and their extended family;
develops readings skills through the use of composed texts derived from the main narrative and authentic texts from newspapers and journals;
introduces grammar using the techniques of spiraling and inference,
challenging learners to discover the grammar of the language by means of analogy, problem solving, and educated guessing;
and contains Arabic-English and English-Arabic glossaries and reference charts as well as a grammar index
4. from top ten the book The Arabic Alphabet
About the Book
Discusses the basics of the Arabic language and provides instruction in the Arabic alphabet.
so Have fun teaching your child the Arabic alphabets.
Book includes the complete 28 Arabic alphabets words with their text English pronunciation.
Anyone who wishes to learn the language faces a hitherto formidable initial problem: the alphabet.
This book proceeds step by step through all the letters of
5. from top ten the book Arabic Stories for Language Learners
About the Book
A great way to learn Arabic, the sixty-six stories found in Arabic Stories
for Language Learners present the vocabulary and grammar used every day in Arabic–speaking countries.
Pulled from a wide variety of sources that have been edited and simplified for learning purposes,
these stories are presented in parallel Arabic and English.
so facilitating language learning in the classroom and via self-study.
Each story is followed by a series of questions in Arabic and English to test comprehension and encourage discussion.
Arabic Stories for Language Learners brings Arab culture to life colorfully and immediately.
Regardless of whether or not you have a working knowledge of Arabic,
this book gives readers a tantalizing introduction to the wisdom and humor of these ancient desert-dwelling peoples.
also The downloadable in audio helps students of Arabic improve their pronunciation and inflection,
so immerses non-c into the uniquely Arabic storytelling style
6. from top ten the book Arabic for Dummies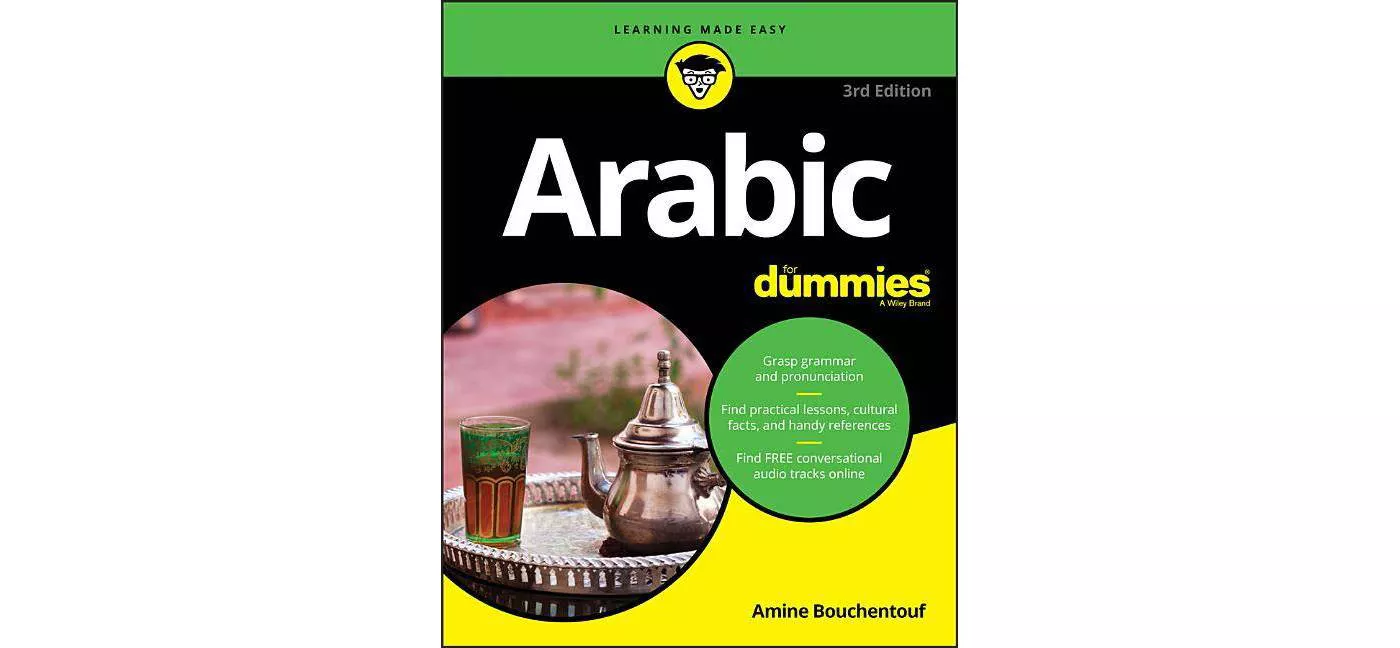 About the Book
The Arabic alphabet, pronunciation, basic grammar, and the rules of transliteration, The history of the language and information on classical Arabic and its dialects
How to make small talk and make yourself understood when dining, shopping, or traveling around town
also How to communicate on the phone and in business conversations Handy words and phrases
for dealing with money, directions, hotels, transportation, and emergencies
and also Arabic culture and etiquette, including ten things you should never do in Arabic countries
The book also includes an Arabic-English dictionary, verb tables, and an audio CD with dialogues from the book to help you perfect your pronunciation.
7. from top ten the book Arabic Through the Quran
About the Book
Whether used as a means of self-instruction or as part of higher learning coursework,
this language primer is ideally suited for those wishing to learn classical Arabic
and for Muslims who wish to learn Arabic exclusively for use in their religious and spiritual practice.
Designed to enhance the understanding of the Quran and its vocabulary that has infiltrated
the whole of Arabic and Islamic literature,
this workbook provides 40 easy-to-follow lessons for learning Quranic rather than modern Arabic.
Beginning with a section on the Arabic alphabet, the text moves
on to individual lessons that address one or more grammatical topics, ranging from the basics of nouns, adjectives,
and prepositions to the more complex concepts of the imperative, the passive, and conditional sentence,
introducing new vocabulary in the process.
Accompanying translation exercises, a glossary of technical terms, and an index supplement the main text.
8. from top ten the book Gateway to Arabic
About the Book
"Gateway to Arabic Book One", with its wealth of practice materials, teaches the skills necessary for reading.
and writing the Arabic language.
It covers the complete Arabic alphabet in all its forms as well as the various short and long vowel sounds.
It offers plenty of opportunity for handwriting practice through extensive copying exercises.
By the end of this book, the learner will have covered the skills needed to read any vocalised Arabic text.
9. from top ten the book Build Your Arabic Vocabulary
About the Book
'Build Your Arabic Vocabulary' provides the reader with 640 key words and 400 related terms.
Written in Arabic script and grouped thematically in 20 main categories ranging from home to leisure and the media.
10. from top ten the book Arabic Short Stories for Beginners
About the Book
How Arabic Short Stories for Beginners works
Each chapter possesses a funny, interesting and thought-provoking story based on real-life situations, allowing you to learn a bit more about the Arabic culture.
The summaries follow a synopsis in Arabic and in English of what you just read, both to review the lesson and for you to see
if you understood what the tale was about.
so Use them if you're having trouble.
At the end of those summaries, you'll be provided with a list of the most relevant vocabulary involved in the lesson,
as well as slang and sayings that you may not have understood at first glance!
So Don't get lost trying to understand or pronounce it all, either, as all of the vocabulary words are translated for your ease of use!
Finally, you'll be provided with a set of tricky questions in Arabic, allowing you the chance to prove that you learned something in the story.
Whether it's true or false, or if you're doing the single-answer questions, don't worry if you don't know the answer to any
we will provide them immediately afterwards, but no cheating!
We want you to feel comfortable while learning the tongue;
after all, no language should be a barrier for you to travel around the world and expand your social circles!